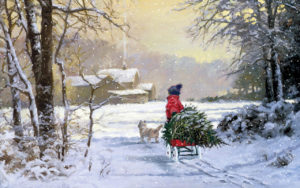 The event you have waited for all year is here – our 12 DAYS OF CHRISTMAS SALE! Our elves have been working non-stop to make sure that we are stocked up and ready for your special requests!
Our 20% off sale will begin on December 9th and run through Tuesday, December 20th.  (See below for all the details. Certain restrictions apply.)
Need a FABULOUS gift for the tea-lover in your life?
We suggest our TEA OF THE MONTH CLUB * as the perfect gift for yearlong giving.
Thank you to all who have remained loyal  customers throughout the year! 
We are indeed grateful for all our friends who have been with us on this journey, almost eight years now. We're sending a special shout out to our extended family in the Livermore, CA area. We miss you guys and have fond memories of you all!
And thank you to all who have become loyal customers this year! 
This year we've been very active at holistic events, traveling the country from East to West and everywhere in between bringing our exceptional teas to a town near you. We're grateful that our fan base keeps growing every day. It's so exciting!
And so we wish you ALL the happiest of holidays and continued health and blessings for your family in the new year to come. Remember, we are only a phone call or email away.
Our 20% off sale is valid from 12/9/2016 – 12/20/2016 only. Use coupon code XMAS16.  One coupon per customer. May not be combined with any other coupon or offer. Free shipping not available during this sale. * Not valid on our Teas of the Month Club but if you join our Teas of the Month Club during this time, we will add two extra teas to your first order, on top of the 24 you'll receive over the course of a year (already deeply discounted; you are paying for 12 teas but get 24).
Merry Christmas to All! 
Paula & Nick
Cardamom and Curry LLC
EMAIL:  sales@cardamomandcurry.com
PHONE: 925-667-0815
ORDER OUR TEAS ONLINE TODAY: www.cardamomandcurry.com
P.S.  Remember the sale code… XMAS16