More Tealicious Tips…
from Cardamom & Curry!  Your cup of Tea!!
The topic: The health benefits of oolong tea and using black tea for sunburns
Summer FUN, Summer SUN and TEA
Are you enjoying your summer? This is your last full month to get it all in and make lasting memories! I remember as a child helping my dad with the massive back yard garden. Boy did I hate watering the many vegetables we planted day after day; however, I did enjoy eating them! I am grateful for the times spent with my dad in the back yard.
I also remember intense sunburns. We didn't have sunscreen like we do today. Despite the improved sun care products out there, sunburn is still an issue at times, right?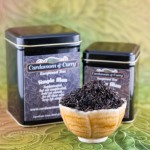 Have you heard of making strong Black Tea, cooling it down and applying it directly to the sunburn? That was another home remedy that mom used on my brother and I. Every summer we managed to go overboard with the sun! Ouch!! Please take a moment to read this article about Sunburn Remedies; you will be so glad you did!  You'll also be glad you ordered our Simple Man black tea too!
What will you remember from the summer of 2015? (I hope it's not a sunburn!) How about a special offer on our Black and Oolong Teas (keep reading!)?
Oooh! Oolong!
This month we are bringing you great information on one of our teas that we have not talked about much and that is Oolong. It happens to be one of my favorite teas not only for its unique woody taste, but also the many benefits it affords us.  It…
Boosts Metabolism
Lowers Cholesterol
Increases Mental Alertness
Aids Digestion
Promotes Healthy Hair
Improves Skin Condition
Stabilizes Blood Sugar
Prevents Tooth Decay
Prevents Osteoporosis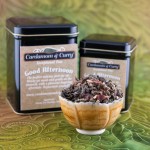 SPECIAL OFFER
From August 10th to August 16th ONLY Save 10% on any Cardamom & Curry black or oolong tea!
Please be sure to use coupon code "sunburn2015" and
your savings will be taken off at checkout. 

Offer valid from 8/10/10 – 8/16/15 only. Discount applied only to our oolong teas and black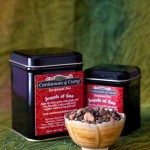 teas. One coupon per customer. May not be combined with any other coupon or offer.
Order our oolong teas here
Sunset in Kasauli Oolong Tea is out of stock but Good Afternoon and Jewel of Goa are both in stock and ready for you to order!

---
FOLLOW CARDAMOM & CURRY ON FACEBOOK, INSTAGRAM, AND PINTEREST!
---
Please send us any comments or suggestions for future newsletters as we are committed to bring you the most update news and current Tea ideas!
I will be posting recipes next month. We have great baking surprises in store for you.
Until then, have FUN, enjoy yourself this month, make memorable memories, and DRINK TEA, and of course, use it on your sunburn!!
Love and Blessings to All,
Cardamom & Curry – YOUR cup of tea!