HAPPY NEW YEAR from Cardamom & Curry!
We're going to start your year off right by helping you with your WELLNESS NEW YEAR'S RESOLUTION!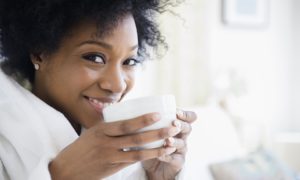 We're giving you 20% off your entire order PLUS a small pouch of a complimentary tea…let us choose and surprise you! Sale dates: Friday, December 29th, 2017 through Sunday, January 7th, 2018.  Coupon code: HEALTHY2018.
After doing so many events around the country, we've heard your health concerns and we would like to help you in your health program to reduce pain and inflammation – in an enjoyable way with our delicious and healthy wellness teas.

The body has all it requires to heal itself perfectly…the number one reason it cannot is INFLAMMATION! The combined spices and herbs in our WELLNESS TEAS help you take care of this health inhibitor!!
Paula has always said, "If they don't taste good, no matter how good they are for you, you won't drink it anyway." The number one thing we focus on is always quality ingredients, and we test every batch to make sure that WE are more than pleased with our creations. It has to taste great, smell great and lend results that we blended it for in the first place, or else it is not PACKED, period!! We strive for the very best for YOU!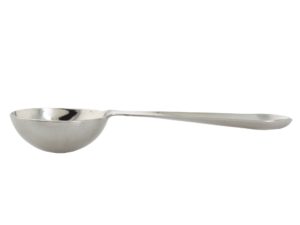 We specialize in concentrated blends of teas. We make sure that with that with one teaspoon you can both brew eight ounces of our tea for a robust cup or up to 16 ounces and still enjoy a great flavor. For a bigger batch of tea, you can just use one perfect teaspoon per 10 oz. of water and just add more tea and water to a saucepan depending on how much tea you want to make. Bring to a boil and strain over a stainless steel bowl. Cool down and put in a pitcher in the refrigerator, it will stay fresh for up to a week as the spices preserve it naturally. Now you can enjoy a cup at a time and just heat it up or have it iced. If it is easier to make, you will be more likely to take care of your health. Drink your way to vibrant health!
We wanted to make it easy for you to identify which teas would be most appropriate for you, so we made a list to reference. * indicates Caffeine Free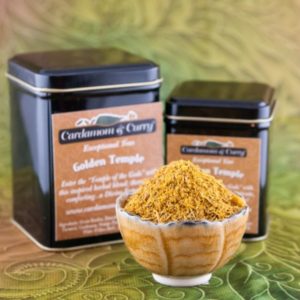 *Turmeric: the KING of antioxidants.   Try "GOLDEN TEMPLE"
We added white willow bark for pain and discomfort.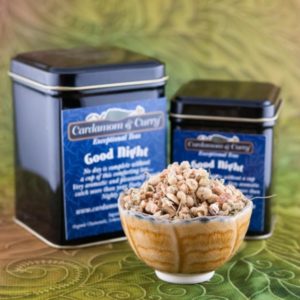 *Chamomile: sleep, nerves, inflammation. Try "GOOD NIGHT"

*Gotu Kola: pharmacy in an herb, #1 for auto-immune/degenerative chronic ailments.  Try "BRAHMA'S NECTAR"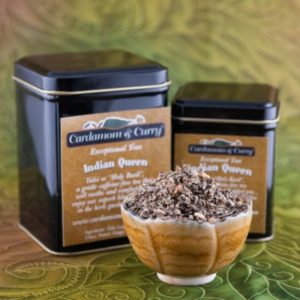 *Tulsi (Holy Basil): anti-cancer. A spiritual plant in India. Used in every form of Ayurvedic Medicine. Try "INDIAN QUEEN"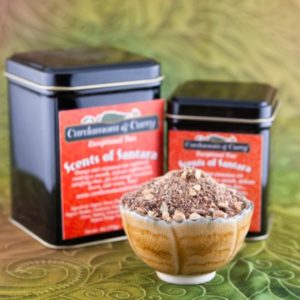 *Rooibos/Honeybush: antioxidant properties. High in Vitamin C, antioxidants, vitamins, important minerals.   Try "SCENTS OF SANTARA"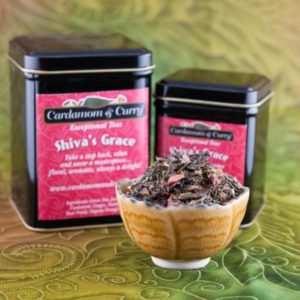 Green: high in antioxidants, light on caffeine, boosts metabolism.   Try "SHIVA'S GRACE"
If you were looking to get your "good morning boost" and kick your coffee habit…you might want to try chai!! Less caffeine than coffee, but just enough to jump-start your day! (wink)
Black Tea: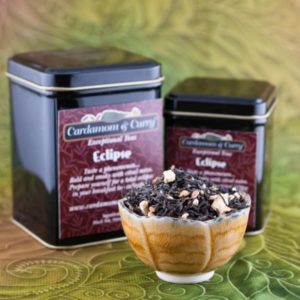 High in antioxidants: "Autumn in Aloobari" and  "Calcutta Comfort"
Boosts metabolism: "Eclipse"
Increases circulation: "Good Morning"
Helps with digestion: Try "Monsoon Morning" and "Spicy Simla"
Please refer to our Resources page for brewing instructions and also the Benefits of Spices and Teas pages for good reasons to stay on your health track and achieve your goals this coming year!
If at any time you have questions, I am easily a phone call away… YOU are the reason we do what we do!! We are always happy to answer any questions or walk you through a brewing procedure. We realize this takes a little more time as it is loose tea, but WELL WORTH THE TIME IT TAKES to keep you in tip top shape!
---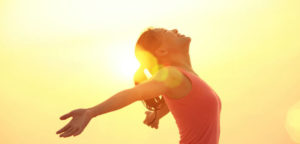 WELLNESS TEA SALE
We're giving you 20% off your entire order PLUS a small pouch of a complimentary tea…let us choose and surprise you!
SALE DATES: Friday, December 29th, 2017 through Sunday, January 7th, 2018.
Please be sure to use coupon code "HEALTHY2018" and
your savings will be taken off at checkout.
Offer valid from 12/29/17 – 1/7/18 only.  One coupon per customer. May not be combined with any other coupon or offer. NOT VALID ON OUR TEAS OF THE MONTH CLUB.
---
We wish you the happiest, healthiest and ever so prosperous New Year ahead with many blessings and lots of LAUGHTER and good times!
With Warmest Regards,
Paula, Nick and Jamie
Also Joey, our little Yorkie, sends a WOOF!
EMAIL:  sales@cardamomandcurry.com
PHONE: 925-667-0815
Cardamom & Curry – YOUR cup of tea!